If you are wondering how to claim your Rainfall reward on the ShapeShift mobile app, start here.
To claim your Rainfall reward on beta.shapeshift.com, follow the steps listed below:
1. Click "Rainfall Rewards" located near the upper right hand side of beta.shapeshift.
2. If this is the first time you are checking your rewards, you'll need to click "Get Started" and go through the brief overview explaining Rainfall. Click "Next" a few times to get through this.
3. Now click the ">" icon to activate the Rainfall rewards dropdown.
4. From here you are able to view the amount of FOX Tokens you have, Rainfall rewards happening in realtime, and your odds. If you have accumulated at least 10 USDC worth of rewards, you can claim your prize by clicking "Claim Reward".
Viewing Your Odds
In the Rainfall Rewards section you will notice a meter displaying your odds. In the image below, the user on the left has 0 FOX, making their chances of winning slim to none (playfully displayed as "Your Odds: Rekt").
The user on the right has ~113 FOX which is higher than the median FOX balance of 100. This user has "Above Average" odds.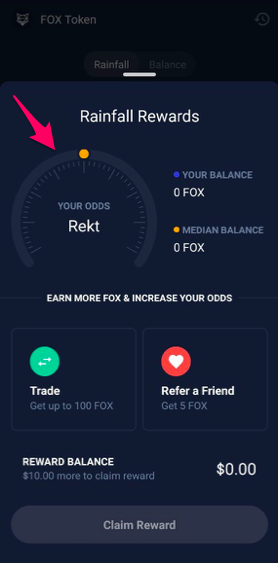 Keep in mind that if you wish to send your newly acquired USDC from ShapeShift to another wallet, you will need to have a small balance of ETH in your mobile wallet to cover the gas fees. More information on ETH/ERC20 gas fees can be found here.
If you have any questions on how to claim your Rainfall reward, please contact our customer support team.
,